DEAR CHILE: I QUIT!
August 15, 2018
Viña del Mar, Chile
2 and a half years ago we returned from our 3-month trip to Europe. In that year, THE PLAN was born and we have been saving since then. What if! We will give up our work at the end of the year!
The plan? A year trip from India to Russia passing through all of Southeast Asia, China and Mongolia - bonus Buenos Aires and London. After that to do for another year Workaways in France, Italy or perhaps Norway. In France the objective is to help restore an old house, in Italy to help in a family farm and learn about cultivation and permaculture. And in Norway? Something with computing, although it could be any country. We also have Estonia to work. E-stonia is called because they are advanced in the use of computer science ... Of course, Skype was born from there. Did you know that there your identity card can be connected by USB and contain life information such as health, place of birth, etc ... something like your life story; even medications you can buy.
We will be in total 2 years out of our charming Valparaíso, maybe more ... maybe less. If po - we had to give up our jobs - the plan would not work with 15 days of vacation per year. What do I feel? On the resignations to our works I am "fearless", without fear and without fear of not having that "stable work". Thinking of the next resignation of December 2018; I feel nothing but emotion, a fire inside knowing what is coming. I know that when I have to work there will always be something to do - if it is not in my profession, it will be something else - I know what ingenuity and desire to receive just enough to eat and have somewhere to live will not be missing. I care so little about material things that I do not have anxieties about not having. On the first trip I did not have that fear of stable work either. Like everything in life there are external influences and I think that my dad somehow instilled in me that work is work.
Maybe what I feel fearless is because with Felipe we do not have children yet, the priorities change when working for the welfare of your children - that is why we did not want to have yet - we want to make the plan first. As long as we do not have children, we will work on the idea of receiving income without having to be in an office hired for someone; as with the sale of the photographs. Something is going to happen to us. And as you know that even after we end up traveling constantly with the children - as in the case of an Argentine family called the Zapp ... the children are taught on the route, what better than a mountain to explain the water cycle? or not?.
I will write you again before we leave. From now on I miss your sea breeze, your beans with reins and the bread beaten with avocado - I will eat a lot during the rest of the year to leave the flavor guarded in my memory.
Pam.
PS: Greetings from travelers to the trip. Attentive to tremors.
About Us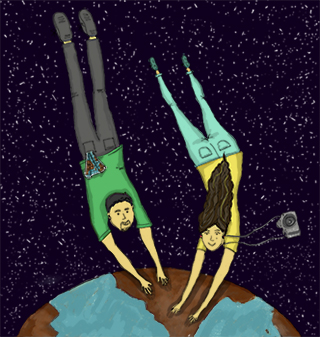 Life was advancing faster than us ... until we decided to reach it.
We are Pamela and Felipe. A young Chilean couple who, after working for several years in our profession of architect and computer engineer, decided to fulfill our dreams and expectations of life. We renounce our jobs to travel around the world without a return date.
Keywords
travel, trip, awakening, traveler, fears, daring, decision, go out, options, moves, routine, explore, world, beliefs, vacation, comfort zone