BALABAC ONUK: PARADISE WITHOUT TOURISTS AND LOW COST IN PALAWAN
Onuk Island, Balabac - Palawan.
Balabac is made up of several islands and islets, it is a hidden treasure that is at the opposite end of El Nido: west of Palawan. One of its islands - Onuk - is compared to paradises such as Bora Bora and the Maldives; however, your budget is 700% cheaper when we consider sleeping in a room above the water.
The Philippines is a country that knows about islands and is composed of more than 7 thousand of them. Balabac for now has gone unnoticed - hidden in the shadow of El Nido - if you think of Palawan, think of El Nido. Surely that will change in a few more years ... but fortunately we were able to enjoy its islands practically only for the two of us - with beaches of crystal clear waters, white sand, sunrises and dreamy sunsets.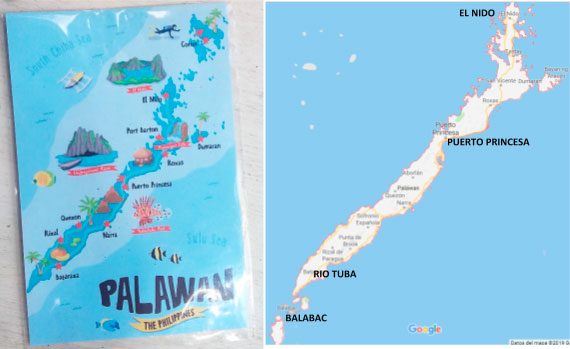 SShhhhhh... do not tell anyone that Balabac is not on the postcards.
As one Spaniard who works in a tourism agency in El Nido said: "How did you get to Balabac? In Balabac there is no tourism". Luckily that is the way it is; In Balabac there is still no tourism, only a few adventurous people arrive a week. So do not expect a great hotel support or less luxury - that is what makes it a unique experience almost for you alone and at an affordable price.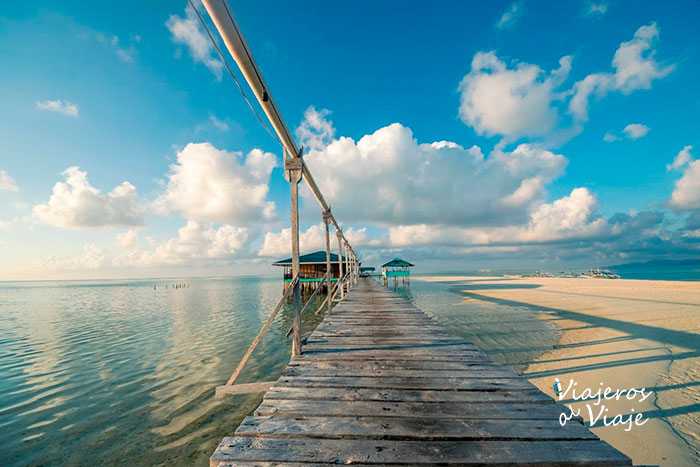 Sunrise in the only accommodation of the Onuk Island - Balabac.
HOW TO GET TO BALABAC?
Before continuing ... did you buy a sim card for the Philippines? In these times and with the prices of sim cards for the cell phone, there is no excuse for not having internet where you go ... it will save you many times and you will save in several others.Click here to know how.
To get to Balabac from Manila; capital of the Philippines, you can fly to Puerto Princesa, Palawan by taking a domestic plane with one of the local operators like Cebu Pacific air or Philippine Airlines. The trip takes around 1 hour and a half.
Then from Puerto Princesa you can take a bus or van to get to Tuba River; for this you have to go to Terminal San José, here we leave the location on the map.
The San José Terminal is small so it will not be difficult to find the buses that make the trip. Most sellers will offer you tickets automatically for El Nido. The buses that run around the island are Roro bus in light green and Cherry bus in white with red letters; There are also the Jeepneys! but that is another post. You will also find vans that save a few hours of travel.
In Roro Bus the passage to Tuba River costs 270 php per person (about 5 dollars). The bus of 9 in the morning with air conditioning went away for 1 minute; so we had to wait for the 11 am (without ac). One van charged us 400 php each and we could have easily bargained at 300 php each; but we did not, I think we like - at least once - to go with the local people knowing their daily dynamics. Also with the windows wide open on a moving bus who needs air conditioning. The bus arrived at 5 in the afternoon to Rio Tuba, made several intermediate stops including stops to eat.
Important: Neither Tuba River nor Balabac you will find ATMs, we had one in Tuba River but it was bad! Do not risk it and take all the cash from Puerto Princesa.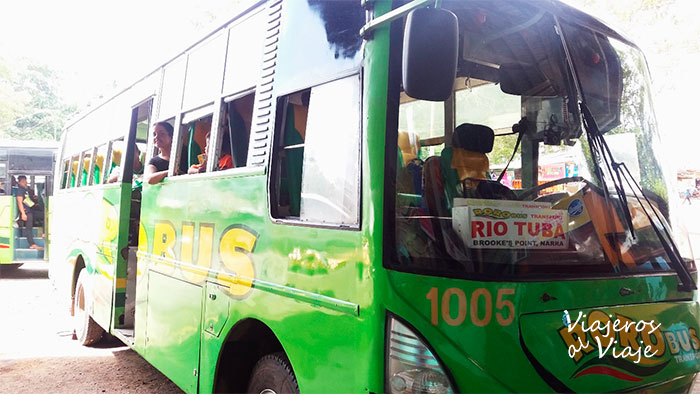 Bus to Río Tuba from Terminal San José in Puerto Princesa.
In Rio Tuba you will need to stay at least one night as the boat that makes the journey from Rio Tuba to Balabac leaves once a day at 11 in the morning; this is relative, so it is best to arrive early and book your ticket with time (we arrive at 8 a.m.). We stayed in Pring Pension House for 300 php (5.7 usd) in double room with fan and shared bathroom; It was located just a few steps from where Roro bus has its final stop. The room with AC cost 900 php (17 usd). We also consulted in the same area with Heaven White and the double room with fan cost 400 php and with AC 650 php (12 usd). We do not recommend the room with a fan ... at least in Pring Pension House it was unbearable the heat for confinement. We leave the location. On the way to the port we saw another accommodation so you can look for some other option.
To get to the port you must take a tricycle - you ask the driver to take you to the "Rio Tuba Pier" the journey cost 100 php for the two (1.9 usd); per person it should cost 20 php, but in our case there were only two and fit 4 or 5 in the tricycle. As everything in the Southeast can be bargained.
When arriving at the port the passenger record sheet was already halfway (the boat makes stops in other locations too). The ticket costs 370 php per person (7 usd), and usually starts at 11:00 a.m. In 4 hours 45 minutes we arrive at Balabac.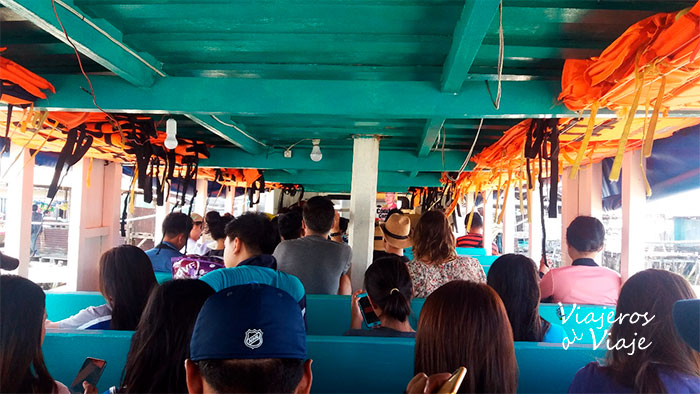 Boat to Balabac or Ferry to Balabac.
So far we have 1 night, 1040 php - 19.75usd (per person) and several hours sitting by bus and boat ... but believe us that it is worth the effort, it is the filter that you must pass in order to enjoy paradise. Both the bus path; Like the boat, they are charming, so you can enjoy the landscapes and the local culture.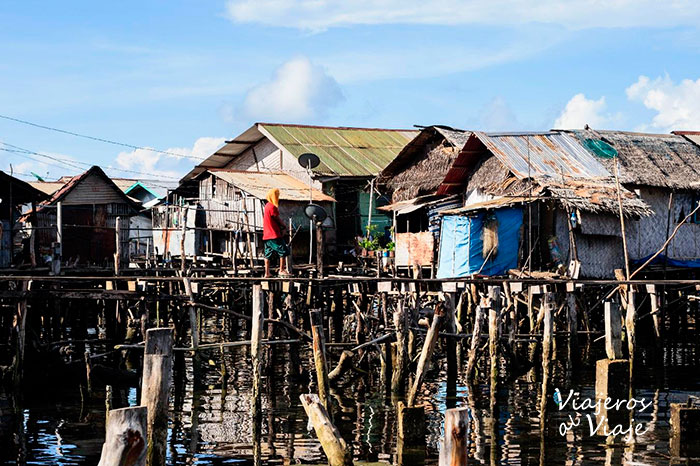 Rio Tuba steps from the port.
WHAT TO DO ? WHATS NEXT ? WHERE TO STAY?
Like the town of El Nido, the town of Balabac is a stepping stone to nearby islands. One of the differences besides that there is no mass tourism is that the distance between each island is greater so it takes days to travel them all. This is when the incipient tourism in the island appears, since it is in charge of about 2 or 3 families. In the village everyone has their own boat for transport so there is no public transport by sea. You must or should contact a family to coordinate the departure to the islands.
In the town of Balabac (as they call it) there are no signs of hostels or sale of anything related to tourism, no tricycle will ask you if you need to take you, you are seen as another weirdo who came to your island. We went without any reservation, we had read that it was necessary to leave the reservation of the hotel and departure to the islands ready before arriving ... as we do not like that to arrive with everything prepared we did not do it.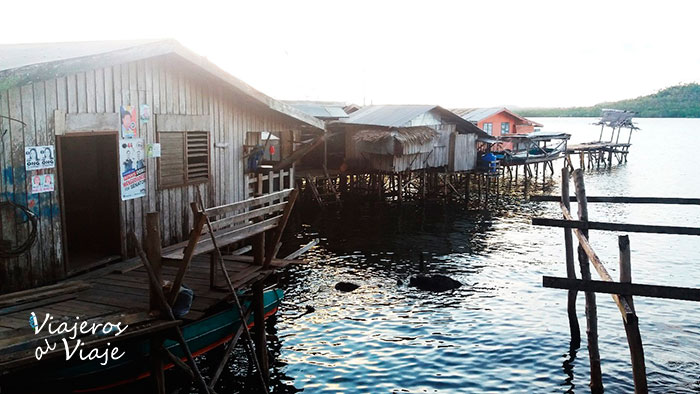 Palafito houses in the town of Balabac Island.
Without hostel reservation we started walking in search of one. We expected to see a sign as soon as we arrived at the port - very far from reality - we started walking and asking the locals we found the only 2 options of the town: JD Lodging House and MLK Lodging House. The second was all booked by a group of Filipinos and luckily in JD Lodging house there was a room for only one night. The basic double room cost 500 php (9 usd) with large fan, quite spacious and shared bathroom. In the same hostel the lady offered us an operator to go to the islands but when she said her name I remembered having read it in one of the few pages with information saying that she had a problem, so we discarded it and called a number (see is useful the sim card?) of which we had good references for price and service.
Contacts:
- JD Lodging house 0910 662 0073
- MLK Lodging house 0939 517 6169
ADVICE: The best thing is that as soon as you get to the Philippines you get in touch and book both your stay and the departure to the islands.
In Balabac they tend to imitate the island hopping system of El Nido which for us is a big mistake but easily solvable with your boat operator.
We contacted Lorna Mortega, compared to the other boat operator she had cheaper prices. We do not like tours, we rarely do one - but the Philippines being a country of islands and its islanders having their own boats - does not give you many options for public transportation by sea on a small scale. We chose the package for 3 days and 2 nights.
Contact:
- Lorna Mortega 0906 690 9547 - 0946 557 6503
And here comes what we told you; Unlike El Nido, the distance between islands is much greater, so traveling 3 islands in a day will not give you more than 20 minutes in each place. As we took a boat and not a boat, the first day we could only be about 15 minutes each: regrettable. So we made a decision that was too accurate: the next days of tour would be only 1 island. Thanks to it we could be in the beautiful, wonderful, dreamed and truly paradise UNK ISLAND for a full day sleeping the night on the sea. As far as your eyes can see what very few have seen ... soft white sand, the incredibly clear water surrounding you with its sparkles and beautiful turquoise color.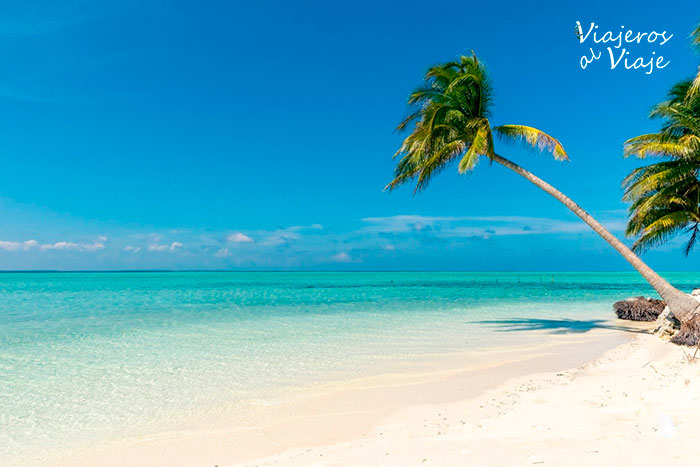 The paradisiacal island Onuk in Balabac.
I did not have to wait until there were no people to take the photo ... it was empty!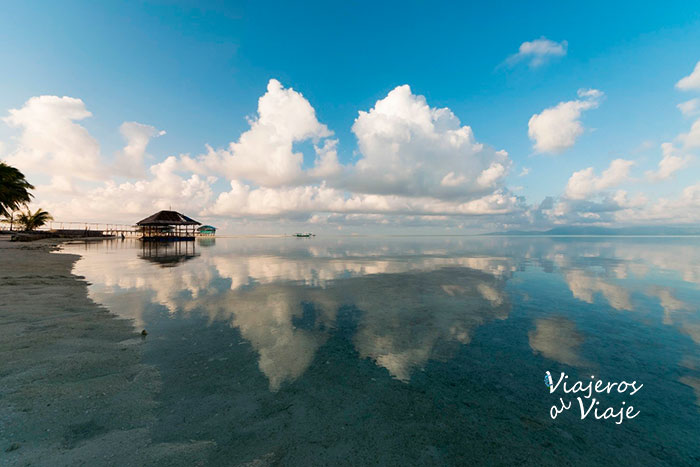 Sunrise on Onuk Island. A dream.
SO HOW MUCH DOES A BALABAC TOUR COST?
You arrived in Balabac for 19 usd per person and now comes the inevitable but wonderful tour of its islands. We choose the tour of 3 days and 2 nights with one night on island Onuk (the most expensive) all other tour options of 1 day or 2 days will have a similar value but less. For us the tour package cost 17,000 php (322 usd) for 2 people. This included:
- Tour for 9 islands.
- Includes the cost of the tickets to each island (formerly they were not included).
- Transfer in a typical Philippine motorboat with shading.
- Accommodation for 2 nights; one in Onuk island over the sea and another in Punta Sibaring in Bugsuk Island in store (remember that there is almost no hotel support).
- All the foods. Breakfast, lunch and dinner.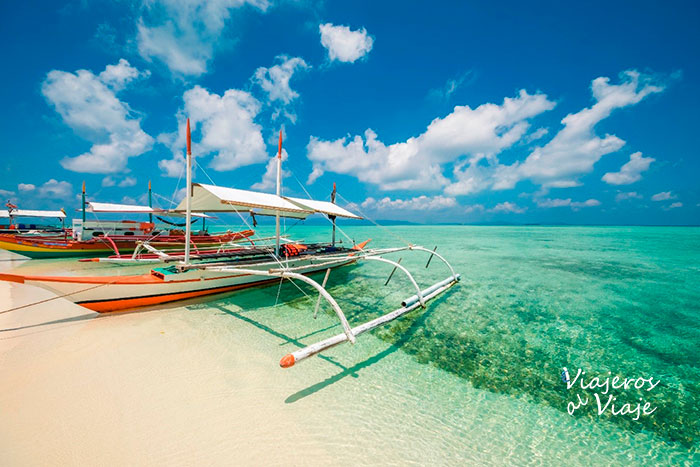 Our lovely Filipino boat.
You can share the boat and it will be much cheaper. However, going alone allowed us to manage our time and make the important decision to spend a whole day in the paradisiacal Isla Onuk. By night then the tour of Balabac had a cost of 161 usd but with transfers, meals included and a private boat just for you. Staying one night in Bora Bora on the water costs above 4000 usd. Clearly the comfort is another, but the experience is totally different, a paradisiacal beach for you only versus the massive tourism of Bora Bora. Balabac is an affordable paradise. Talking with a Filipino lady who was on vacation with her son, she told us that she was in Bora Bora and did not like it because there were too many people, that Balabac is just as wonderful but without people.
Onuk Island is a paradise like Bora Bora but only for you!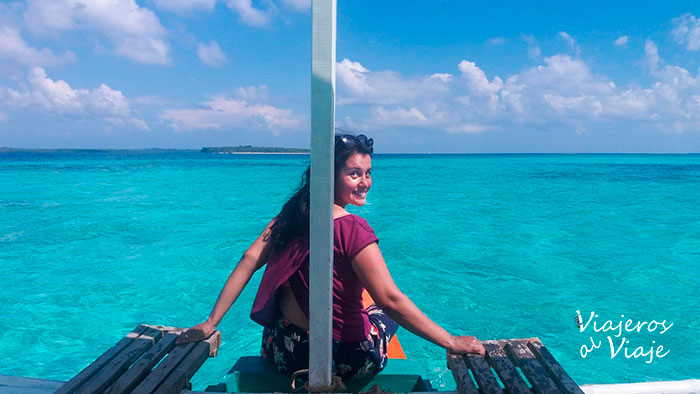 Touring the Balabac Islands - Palawan - Philippines.
IS BALABAC AND ISLA UNK A PARADISE BACKPACK DESTINATION? OF COURSE YES!
About Us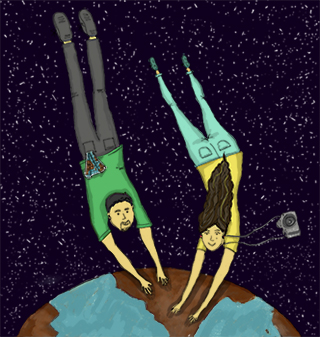 Life was advancing faster than us ... until we decided to reach it.
We are Pamela and Felipe. A young Chilean couple who, after working for several years in our profession of architect and computer engineer, decided to fulfill our dreams and expectations of life. We renounce our jobs to travel around the world without a return date.
Keywords
travel, balabac, onuk island, balabac islands, philippines, palawan